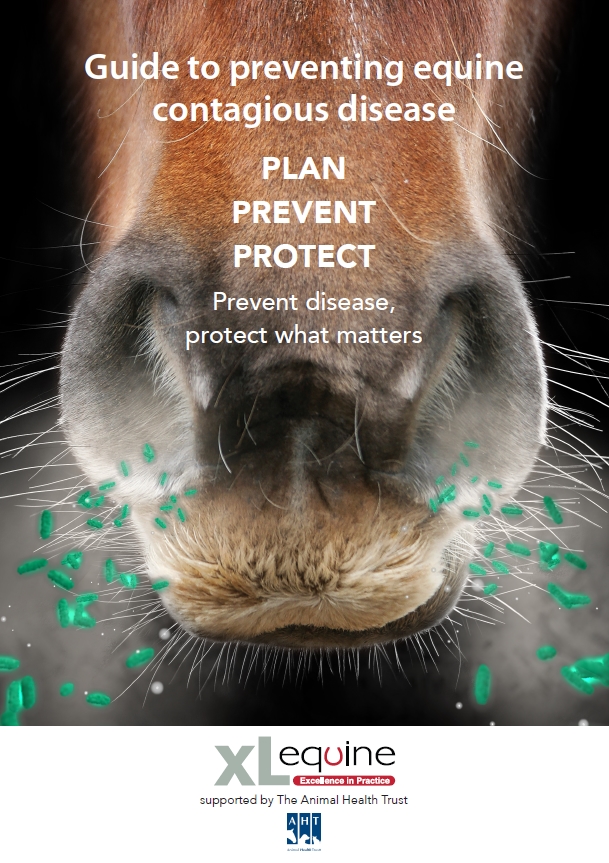 New Guide to help you 'Plan Prevent and Protect'
The UK's first guide to preventing equine contagious disease has been developed for horse owners by XLEquine practice members in collaboration with the Animal Health Trust (AHT). The booklet, called 'Plan Prevent Protect' is designed to give you an introduction to the contagious diseases that can affect your yard and the horses in your care.
These diseases are costly both to the welfare of the horses under your care, as well as in financial terms whether it's your hobby, or especially if it's your business. Diseases such as Equine Influenza and Strangles can affect race meetings, local shows and events. Other conditions such as Contagious Equine Metritus (CEM) can lower the fertility of breeding horses.
What's it about?
In the first part of the booklet we talk you through the most common contagious diseases, as well as exotic ones we might see at some point in the future in the UK. Biosecurity is the cornerstone of preventing the entry of disease onto your yard.  A simple set of management practices can be implemented in every situation to decrease the chance of diseases entering your premises. It's really important to your horse's well-being and it can be really easy to put a plan together in every circumstance.
Practical Guide
The second part of our booklet takes you through how to design your own biosecurity plan.  We talk about protocols for newly arriving horses, the importance of isolation facilities, basic steps you can take when travelling to shows and vaccination strategies.
The booklet centrefold has a risk assessment guide for you to complete in conjunction with your vet. It gives you an opportunity to sit down together and talk about the problems with disease control that are particular to your yard. From this we can assess your yard, and determine the level of risk, then talk about the practical steps you can take to decrease your chances of contagious diseases entering the premises.
The final section deals with what to do in a disease outbreak; how to recognise the signs of a contagious disease, and how to manage the horses affected by it. 
We hope you find this guide helpful and informative. There are many talking points within it, and you'll need the support of all the individuals who regularly visit your yard, from grooms to owners and professionals.
Please speak to your XLEquine vet for further information or if you need any help setting up your yard plan.